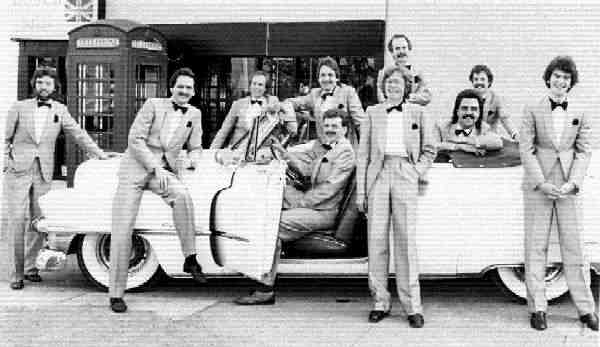 We formed in 1979 as a testament to our love of Classic R&B
The original band, wearing their signature white tuxedos, first opened for Long John Baldry at O'Hara's, a long-gone venue at the foot of Main Street. Harry Brandolini, the owner of No. 5 Orange Street saw the band at this gig, and thought that the Allstars and the "5" would be a great weekend fit. Harry hired us, and the line-ups began, as did the curiosity. We were featured on local news, radio and TV shows, and in articles by local writers such as Tom Harrison. All of these helped our popularity, and we not only became a fixture on the local Vancouver night life scene, but were invited to open for touring acts that came through Vancouver such as War, James Brown, Paul Butterfield, and Chuck Berry. We performed at many Jazz and Blues Festivals, and were a long weekend fixture at Buffalo Bill's in Whistler .  Allstar recordings include Choo Choo Boogie, Ain't That A lot Of Love, Crazy Mama, Satisfaction, and two originals; You've Got To Make Up Your Mind and Money Screams. With great support from local radio, the band created a following that endured for well over 20 years. More than 30 members have come and gone, including some of the best talent ever to have come out of Vancouver. We have relaunched the Allstars for the same reason we introduced it in 1979.  Because we love it!
1977 – R&B Delivery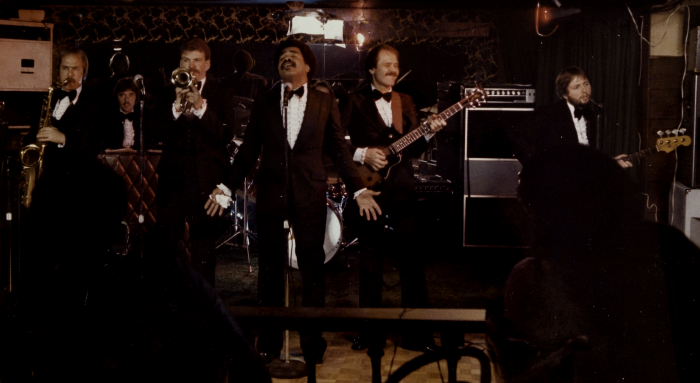 R&B Delivery. A group of Vancouver legends formed a group to do classic R&B.
Jason Hoover, vocals
Bob Kidd, bass
Jim Harmata, guitar
Al Davidson: B3
Rick Hill: drums
Al Lynch: trumpet and vocals
John Pearson: tenor
1978 – Champion
Champion was an experimental project, recording original instrumental music.
Russ Marsland: guitar
Glen Blackford: bass
Ken Boychuck: keyboards
Rick Gittens: drums
Colin Weinmaster: trombone
Kim Nishikawara: tenor
Mark Akerstream: vocal
1979 – The Original R&B Allstars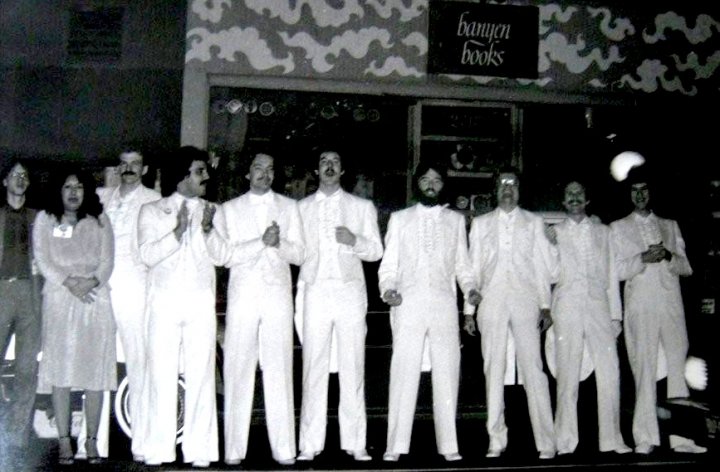 Jason, Bob and Jim left R&B Delivery and  both bands combined for the original R&B Allstar line up.  Bill Ward left shortly after and was replaced by Hans Stamer in 1980. The band had a Blues Brothers  vibe with an original spin on classic R+B songs in our signature tuxedos and shades. Our first regular gig was at No.5 Orange Street Friday and Saturday nights. The line ups were long and we had a blast. We recorded Live at The Five on Orange Records, our own independent label that was financed by Harry Brandolini, the owner of NO.5.  Harry introduces the band on that album. Seven months later, Willy Ward left to form his own group, Outa Hand Jive Band (version 2). Hans Stamer, one of  Canada's most amazing singers,  joined us to replace Sweet Willy. Recordings, both original and covers include Choo Choo Cha Boogie, Crazy Mama, You've got to Make up your Mind, Ain't that a  lot of Love, Satisfaction and an unreleased solo album project called "Stamer',  an all original effort with the band and many session players. The band went on to play clubs, concerts, T.V. for many years.
Russ Marsland
Glen Blackford
Al Davidson
Rick Hill
John Pearson
Colin Weinmaster
Bill Ward: trumpet and vocals (1979)
Al lynch; trumpet and vocals
Hans Stamer; vocals (1980-)
The 90's R&B Allstars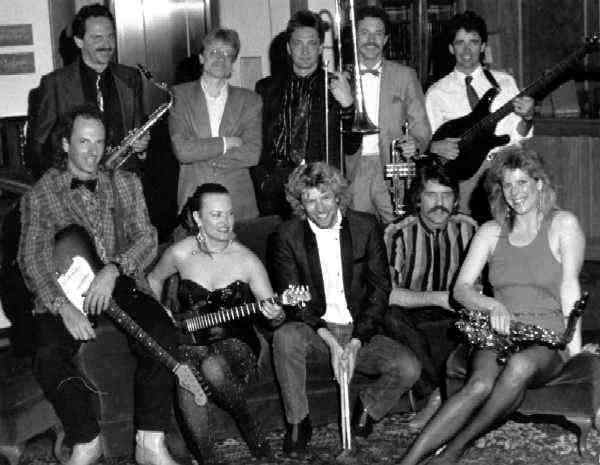 By the early nineties, we had evolved into a group that featured some of Vancouver's finest session players and singers. The group disbanded in the late nineties.
Hans Stamer: vocals
John Ellis:  gtr
Ken Boychuck: B3
Darryl Burgess; drums
Norm Fisher: bass
Joani Bye: vocals/gtr
Kirsten Nash: vocals/tenor
Paul Baron: trpt
Al Michie: Tenor/Alto
Tom Keenlyside: Tenor/Alto/Bari sax
Colin Weinmaster: trombone
Alumni
Jim Wesley:Drums
Glen Blackford : bass
Frank Dato: drums
Brady Gustafson: drums
Mike Skinner: sax
Duris Maxwell: drums
Fred Gass: trumpet
Dave Taylor: bass
Ken Chalmers: drums
Darryl Miller: drums
Glen Riley: bass
John Winterton: bass
Johnny  Ferreira: Tenor
Pat Stewart :drums
Dave Steele: Vocals
Al Lynch: Trumpet/Vocals
Al Davidson: Keys
Russell Marsland: Guitar/Vocals
Kirsten Nash: Tenor Sax and Vocals